Welcome to Best Gutter Cleaning Tool. Cleaning gutters is probably one of the most unpopular projects a home owner has to deal with and choosing the best gutter cleaning tool can make this project a lot less painful. Gutter cleaning is a project that can't be procrastinated without the risk of water damage to your house. Gutters are needed to carry water away from your house to protect your roof and home from moisture and water damage. Water can build up in clogged gutters and cause damage to the fascia boards as well as the roof and the siding on your home.
Without proper drainage water can even cause damage to your foundation. Depending on the landscape surroundings of your home this is a project that may only need to be done once a year or may need to be done several times during the year. You want to be sure you are using the best gutter cleaning tools to safely clean your gutters no matter how often this task is done. Some people pay to have their gutters cleaned by a professional but this can get very costly, especially if you need to do it multiple times a year.
One way to reduce the amount of gutter cleaning your house will require is to walk the perimeter of your house and look up to see if there are any tree limbs or branches hanging over the roof. If you see limbs hanging over the roof you should have these trimmed immediately. Leaves and sticks from the branches are going to end up collecting in your gutter if you let these branches continue to hang over your roof.
If you are going to clean your own gutters safety should always be your number one priority and should not be taken lightly. Climbing up and down a ladder can be very dangerous especially when the ladder gets wet. Also climbing with tools in your hand can be very dangerous because you can't hold on to the ladder with both hands. When using an extension ladder make sure your ladder is sitting flat with both feet resting squarely on the ground. The ladder should be resting on a surface that is not going to cause the ladder to slip or slide back as you climb up it.
It's always a good idea to have someone stand at the bottom of the ladder with their foot wedged against the base of the ladder to ensure that it will not slip. Always check to make sure the rung locks are in place and the ladder is secure. In order to maintain the correct angle of the ladder be sure the base is ¼ of the height of the extended ladder away from the structure. In other words if your ladder is extended 16 ft the base of the ladder should be 4 ft out from the structure. You can lessen your chances of having an accident on the ladder by following these guidelines.
You also want to be sure to use the best gutter cleaning tool for cleaning your gutters safely and effectively. One of the best tools that I have found for cleaning gutters is the iRobot Looj 330. This tool makes gutter cleaning easier and safer than cleaning by hand by limiting the number of times you have to move your ladder and climb up and down to remove debris. To read more about this product or to purchase you can click on the link below or select the iRobot Looj 330 from the menu above. Good luck with your gutter cleaning project and always be sure to make safety your number one priority.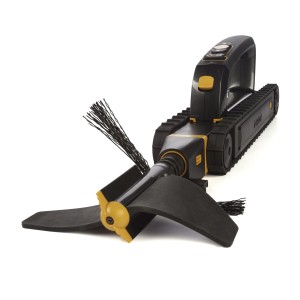 Lawn and Garden
At BestGutterCleaningTool.com we also feature other lawn and garden equipment such as leaf blowers, chainsaws and other tools to help make your outside chores easier. Please feel free to browse these pages and be sure to check back from time to time as we are continually adding and updating products.